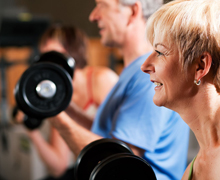 Researchers from the American Cancer Society and Harvard University have confirmed losing weight and keeping it off can reduce the risk of breast cancer as much as 26 percent. A study of more than 180,000 postmenopausal women over the age of 50 showed those who lost weight had lower rates of breast cancer than women whose weight remained the same; and the more weight lost the greater the reduction in risk.
More than two-thirds of women in America are overweight or obese according to the latest figures available and previous studies have shown a higher body mass index (BMI) is an established risk factor for breast cancer. What researchers wanted to find out in this study is if there is a way to reduce that risk by losing weight.
The results of this study were published in the Journal of the National Cancer Institute. It included data from 10 studies and focused on postmenopausal women not using postmenopausal hormone therapy.
The sample size of 180,000 women from the Pooling Project of Prospective Studies of Diet and Cancer (DCPP) was considered large enough to allow scientists to have some measure of certainty regarding the veracity of the results translating to the population at large. The weight of the study participants was measured at three intervals over the 10-year span – at the outset, five years in and four years later.
The women who lost weight and kept it off has a lower risk of breast cancer than those whose weight remained relatively constant. Women who lost between 4 and 10 pounds had a 13 percent lower risk than women who did not lose weight. Women who lost between 10 and 20 pounds lowered their risk by 16 percent and those who lost more than 20 pounds cut their risk by 26 percent.
Additionally, those who lost some weight during that period but did not gain all of it back still had a lower risk than those who never got the scale to move downward at all.
"Our results suggest that even a modest amount of sustained weight loss is associated with lower breast cancer risk for women over 50," said Lauren Teras, Ph.D., lead author of the study. "These findings may be a strong motivator for the two-thirds of American women who are overweight to lose some of that weight. Even if you gain weight after age 50, it is not too late to lower your risk of breast cancer."
Click here to read more in the Journal of the National Cancer Institute.