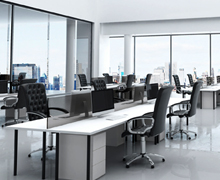 To sleep better at night, see some natural light. It's not as catchy a phrase as an apple a day keeps the doctor away but it holds true for office workers and their need for sunlight. A newly released study showed office workers exposed to natural light during the day slept an average of 37 additional minutes at night and scored 42 percent better on cognitive tests compared to those exposed to only artificial light.
Researchers from several institutions, including Harvard University and the University of Illinois collaborated on this study. Their findings were published in the International Journal of Environmental Research and Public Health and may prompt some individual workers and companies to re-think their working environment in order to promote health and boost productivity.
This study was different from those conducted previously because it used the same workers in the same office environment to arrive at its findings. Similar conclusions were observed in experiments that compared office workers who see minimal natural light during the day with people from different professions who are exposed to more sunlight. Research also shows children who see more sunlight during the day tend to sleep longer than those who see little sunlight.
Using two identical office spaces in the same building, researchers made sure the only difference was the amount of natural light visible. One office used a large blind to prevent much of the natural light from entering. The other office had glass treated with a special glaze that minimized the glare but allowed sunlight to pass through freely.
For the experiment, 30 people who traditionally work in an office setting were divided and asked to spend a week in one office before moving to another office for the second week. Each employee wore an electronic tracking device that measured the amount of sleep they tallied. They also completed cognitive tests.
Both groups of employees slept better at night on the days their work was done in the office with the natural light. They slept an average of 37 minutes longer each night. Another benefit was improved cognitive test scores. The scores rose steadily for the workers exposed to natural light culminating in a 42 percent higher score by the end of the week.
Click here to read more in the International Journal of Environmental Research and Public Health.