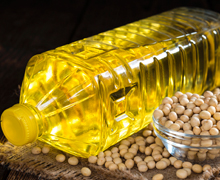 Soybean oil is the widely used in pre-packaged foods and for deep frying at restaurants, making it the most consumed oil in the U.S. according to the Department of Agriculture. However, new research from the University of California at Riverside is raising doubts about the safety of soybean oil after study findings show it has the potential to trigger genetic changes in the brain.
These scientists from UCR previously found soybean oil consumption leads to obesity, diabetes, insulin resistance and fatty liver disease in mice and have now linked it to possible neurological conditions such as autism, Alzheimer's disease, anxiety and depression. This raises serious questions about soybean oil's safety for human consumption.
The findings recently published in the journal Endocrinology detailed how researchers used a group of mice to test three types of oil. They fed them high-fat diets consisting of soybean oil, modified soybean oil engineered to be lower in linoleic acid and coconut oil.
Both types of soybean oil directly impacted the hypothalamus, a place in the brain where several critical processes take place.
"The hypothalamus regulates body weight via your metabolism, maintains body temperature, is critical for reproduction and physical growth as well as your response to stress," said Margarita Curras-Collazo, a UCR associate professor of neuroscience and lead author on the study.
Scientists found about 100 genes affected by the soybean oil including one gene responsible for producing the "love" hormone oxytocin. The soybean oil caused the oxytocin levels in the hypothalamus to go down. The other genes impacted are responsible for proper brain function with linkage to conditions such as Parkinson's disease and autism.
However, researchers were quick to point out this does not prove soybean oil causes these diseases. They also cautioned mouse studies do not always produce the same results in humans, but they are hoping to isolate the compound in soybean oil that triggers the changes so healthier oil can be produced.
Frances Sladek, a UCR toxicologist and professor of cell biology said this does not pertain to all soy products. "Many soy products only contain small amounts of the oil, and large amounts of healthful compounds such as essential fatty acids and proteins."
Sladek went on to say, "The dogma is that saturated fat is bad and unsaturated fat is good. Soybean oil is a polyunsaturated fat, but the idea that it's good for you is just not proven."
In this study, the coconut oil, which contains saturated fats, did not cause the same issues in the hypothalamus as the soybean oil.
Fellow researcher Poonamjot Deol said, "If there's one message I want people to take away, it's this: reduce consumption of soybean oil."