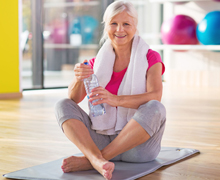 The importance of strength training for maintaining adequate muscle function as people advance in years is a well-established principle. But a new factor can be added to the equation now after a study from Trinity College in Dublin, Ireland has revealed the importance of vitamin D for muscle preservation.
Healthy muscle function needs to be protected because it plays a critical role in ensuring seniors age well and remain independent and experience a desirable quality of life. That's why many studies related to exercise and nutrition are conducted each year involving participants over the age of 50.
The report published in the journal Clinical Interventions in Aging detailed the findings of scientists at Trinity who reviewed the data from more than 4,000 adults over the age of 60 from the English Longitudinal Study of Aging. They looked at an assessment of strength and endurance along with the vitamin D levels of the seniors.
They found the prevalence of muscle weakness was twice as high among adults with a vitamin D deficiency than those with an adequate amount, which was defined as 30 nmol/L (12 ng/mL) or higher. At the same time they found the prevalence of impaired muscle performance was three times higher among those with low levels of vitamin D.
"Our results show that vitamin D deficiency increased the likelihood of poor muscle function in older adults and confirms the protective effect of physical activity," said associate professor Maria O'Sullivan. "Maintaining muscle function is incredibly important, and often overlooked, in promoting healthy aging. Addressing this through multimodal approaches that incorporate physical activity, reversing vitamin D deficiency and other modifiable diet and lifestyle components require further investigation."
"Overall our findings add weight to the evidence in favor of public health strategies to eliminate vitamin D deficiency in older populations," study author Dr. Niamh Aspell added. "Future research, however, should identify and focus on older adults with vitamin D deficiency and aim to better understand if reversing this deficiency improves skeletal muscle function."
The study also confirmed seniors who participated in regular moderate physical activity had significantly lower likelihood of poor testing related to muscle strength and muscle performance.
"Vitamin D deficiency and physical activity are modifiable factors," said study co-author Dr. Eamon Laird. "Some countries, for example Finland, have successful implemented a vitamin D food fortification policy which has all but eliminated deficiency in the population. Such a policy could similarly be implemented in the UK and Ireland for older populations."
According to the report, the vitamin D level used to establish deficiency is generally accepted among the medical community to be the point at which a person is at greater risk of bone disease and bone loss.
Click here to read more in the journal Clinical Interventions in Aging.