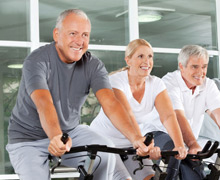 Another study has shown the positive link between physical fitness and brain fitness, leading researchers to believe exercise could be a critical ingredient in preventing Alzheimer's disease. Scientists at the University of Texas Southwestern have found evidence that a low fitness level results in more rapid deterioration of important brain nerve fibers. It is that deterioration that results in memory troubles and cognitive decline.
"This research supports the hypothesis that improving people's fitness may improve their brain health and slow down the aging process," said Dr. Kan Ding, a neurologist from the Peter O'Donnell Jr. Brain Institute who authored the study that was published in the Journal of Alzheimer's Disease.
Dr. Ding's study focused on assessing white matter, the brain tissue made up of nerve fibers used for sending messages across the brain. The volunteers were older patients with mild cognitive impairment or displayed early signs of memory loss which equates to a higher risk of developing Alzheimer's disease.
This study was different than others in that instead of relying on volunteers to assess their own fitness, researchers determined the cardiorespiratory fitness level of participants by tracking maximal oxygen uptake. The volunteers were then given tests to measure cognition and brain function where scientists were able to see the correlation between exercise and brain health.
While this study is yet another to show the importance of exercise, the mystery that remains is why physical fitness and mental fitness are related. Other unanswered questions include what level of fitness is necessary to reduce the risk of dementia and can exercise help patients after they have already begun showing signs of cognitive decline.
"A lot of work remains to better understand and treat dementia," said Dr. Ding. "But, eventually, the hope is that our studies will convince people to exercise more."