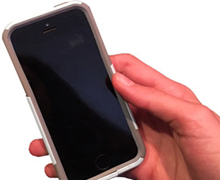 Teens that spend a lot of time consuming digital media are twice as likely as their infrequent consuming peers to display symptoms of attention-deficit/hyperactivity disorder (ADHD). So says a new study conducted by the University of Southern California.
Researchers wanted to better understand the mental health consequences related to the abundance of digital diversions faced by the current generation so they tracked the actions of nearly 2,600 teenagers over a period of two years.
They focused on the totality of options including social media, streaming video, music downloads, text messaging, online chat and others. Previous studies just looked at the link between television and video game usage with the illness.
"What's new is that previous studies on this topic were done many years ago, when social media, mobile phones, tablets and mobile apps didn't exist," said Adam Leventhal, director of the USC Health, Emotion and Addiction Laboratory. "New mobile technologies can provide fast, high-intensity stimulation accessible all day, which has increased digital media exposure far beyond what's been studied before."
ADHD, according to the National Institutes of health, is common among children and adolescents and also affects about 4 percent of adults in the U.S. The National Institute of Mental Health describes it as a brain disorder characterized by a pattern of inattention, hyperactive behavior and impulsiveness that interferes with functioning or development.
Scientists started with a pool of 4,100 15 and 16-year-old students representing a diverse demographic and socioeconomic mix from 10 public schools in the Los Angeles area. That list was trimmed to 2,587 after the students already displaying ADHD symptoms were removed.
Researchers asked the teens about their frequency of use regarding 14 different digital media platforms and sorted the students into no-use, medium-use and high-use categories. Students were monitored every six months between 2014 and 2016 to determine what impact digital media use had on ADHD symptoms.
What they found was 9.5 percent of students who were frequent users of at least half of the platforms and 10.5 percent of those that frequently used all 14 platforms showed new ADHD symptoms. By contrast, only 4.6 percent of those who were not frequent users showed symptoms, which is consistent with rates of ADHD among the general population.
"We can't confirm causation from the study, but this was a statistically significant association," Leventhal said. "We can say with confidence that teens who were exposed to higher levels of digital media were significantly more likely to develop ADHD symptoms in the future. This study raises concern whether the proliferation of high-performance digital media technologies may be putting a new generation of youth at risk for ADHD."
Click here to read more in the Journal of the American Medical Association.