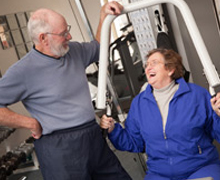 While the individual elements are well-known components of a healthy lifestyle, a new study shows there are five lifestyle changes that when combined can increase life expectancy by a total of 12 years or more. It will come as a shock to almost no one that regular exercise, a healthy diet, moderate drinking, maintaining a healthy weight and not smoking are ingredients for a healthy life recipe, but Harvard researchers have confirmed as such by studying more than 30 years of data.
Reviewing the findings of two major studies with more than 165,000 participants, researchers concluded the average woman that adopts those lifestyle choices will live 14 years longer than their peers, while a man can be expected to live an additional 12 years. That means, beginning at the age of 50, all women can expect to live another 29 years, but those making wise choices will live 43.1 more years. The additional years for men goes from 25.5 to 37.6.
Scientists determined this while looking to understand why the U.S. ranks so low in life expectancy across the globe. Despite enormous spending on healthcare, America is 31st among developed countries for expected longevity with an average of 79.3 years.
Americans spend the most of any country per capita with an average expenditure of $9,402 per person. However, a lot of that of the emphasis in today's healthcare environment is focused on pharmaceutical drugs and treatment rather than prevention.
"This study underscores the importance of following healthy lifestyle habits for improving longevity in the U.S. population," said Frank Hu, chair of the Department of Nutrition at Harvard Chan School and senior author of the study. "However, adherence to healthy lifestyle habits is very low. Therefore, public policies should put more emphasis on creating healthy food, built, and social environments to support and promote healthy diet and lifestyles."