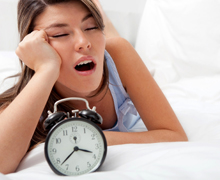 It was not uncommon for college students to have poor sleep habits before smartphones because of late-night parties and all-night study sessions. But another disruptor can now be added to the equation. Research shows many students lose sleep because of a condition called nomophomia, which is the fear of being detached from mobile phone connectivity.
A sample of college students surveyed showed that 89 percent had moderate or severe nomophobia. The National Institutes of Health describes it as a psychological condition. The name is short for NO MObile PHone PhoBIA and it manifests itself in greater daytime sleepiness and other behaviors associated with poor sleep quality.
"We found that college students who experience more 'nomophobia' were also more likely to experience sleepiness and poorer sleep hygiene such as long naps and inconsistent bed and wake times," said lead author Jennifer Peszka, Ph.D., professor of psychology at Hendrix College in Conway, Arkansas. "Because our study suggests a connection between nomophobia and poorer sleep, it is interesting to consider what the implications will be if nomophobia severity continues to increase."
While she anticipated some to experience the phenomenon, Peszka was surprised by how prevalent it was. A total of 327 college students with a mean age of 20 years completed a Nomophobia Questionnaire as well as questionnaires related to the Epworth Sleepiness Scale and the Sleep Hygiene Index.
Peszka and her team, after analyzing the data, discussed several recommendations that are common for those looking to improve sleep habits. They realized it may be difficult to suggest some because they might just exacerbate the problem, leading to bedtime anxiety and disrupting sleep even more.
"The recommendation to curtail bedtime phone use, which is meant to improve sleep and seems rather straightforward, might need adjustment or consideration for these individuals," she said.