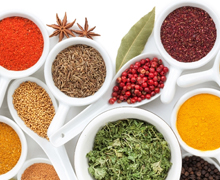 Some people add spices to their food for flavor as a substitute for salt not realizing the power those spices possess. A new study from Penn State University showed that adding herbs and spices to food was able to lower the blood pressure of study participants even without them cutting back on sodium.
"I think it's really significant that participants consumed an average American diet throughout the study and we still found these results," researcher Penny Kris-Etherton said. "We didn't decrease sodium, we didn't increase fruits and vegetables, we just added herbs and spices. It begs the next question that if we did alter the diet in these ways, how much better would the results be?"
Researchers recruited 71 people for their study who were at risk for heart disease based on several factors. The participants were given a combination of herbs and spices to add to their food in designated amounts for four weeks at a time.
The amounts of spices were categorized as low, moderate and high in terms of quantity and the participants were randomly assigned to each group. They took a 2-week break between each spice level. Blood samples were taken before and after each 4-week period.
The diets of the participants were the same with the exception of the amount of spices. Their diet was reflective of what the average American consumes and the amount of spices added each day were 0.5 grams for the low group, 3.2 grams for the moderate group, and 6.5 grams, which is equivalent to about 1.3 teaspoons, for the high group.
The seasonings were a blend of 24 different herbs and spices such as basil, thyme, cinnamon, turmeric and others. It was formulated to simulate the different elements a person may use throughout the day while cooking.
Study participants had a lower systolic blood pressure with the high dose of spices compared to the both lower levels and the diastolic blood pressure numbers were lower with the medium and high group when compared with the low group.
"Adding herbs and spices to your food is a great way to add flavor without adding extra sodium, sugar or saturated fat," researcher Penny Kris-Etherton said. "And, if you go a step further and add these seasonings to foods that are really good for you, like fruits and vegetables, you can potentially get even more health benefits by consuming that extra produce."
Fellow researcher Kristina Petersen said, "As nutritionists, we're interested in new ways we can use diet to benefit health, and cardiovascular health in particular. We were curious about how herbs and spices could affect heart health, since they are versatile and can be added to many different types of food."
Click here to read more in The American Journal of Clinical Nutrition.