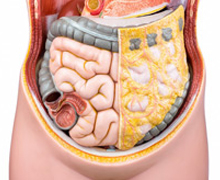 Targeting certain gut bacteria can suppress autoimmune disease according to new research at Yale University. Scientists found bacteria in the small intestines of humans and mice that can travel to organs and cause an autoimmune response, which researchers were able to stop through the use of antibiotics.
When someone suffers from an autoimmune disease there is a battle within the body that results in healthy cells getting attacked by the immune system. It affects as many as 25 million people in the U.S. and common types of conditions include rheumatoid arthritis, lupus and celiac disease. The findings published in a recent issue of Science provide hope that new ways to treat these chronic issues can be developed.
Yale researchers focused on the bacterium Enterococcus gallinarum which they found had the ability to move from the small intestine to the liver, lymph nodes, and the spleen. The bacterium was found in mice to initiate the body's production of auto-antibodies and inflammation after travelling outside the gut, which is indicative of an autoimmune response. It was also observed in the livers human of patients with autoimmune disease.
Scientists were able to suppress the response and affect a change in the immune system in mice with an antibiotic that targeted E. gallinarum. It was introduced to the body through injection into muscle so as to avoid affecting other gut bacteria.
"When we blocked the pathway leading to inflammation, we could reverse the effect of this bug on autoimmunity," said study author Martin Kriegel, M.D. Dr. Kriegel and his colleagues plan to continue their research on E. gallinarum in hopes of advancing the understanding and treatment of autoimmunity and related issues.