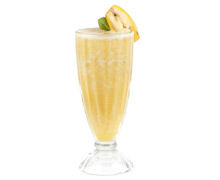 1 scoop LivingProtein®
2 tablespoons organic peanut butter
1 medium frozen banana
½ teaspoon raw honey
¼ teaspoon Celtic Sea Salt (adjust to taste)
1 cup cold purified water (adjust to desired consistency)

Add all ingredients into a blender and blend until smooth, about 30 seconds. Enjoy!

Banana Quick Tip! You can peel and freeze bananas at the preferred ripeness in a freezer-safe container for up to six months. This locks-in the ripeness of the banana for use in your recipe and also chills your Super Smoothie.