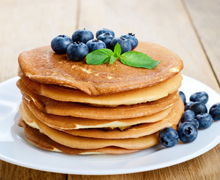 2 scoops LivingProtein®
2 cups organic all-purpose whole wheat baking flour (or substitute your favorite wheat-free or gluten-free flour and adjust measurement to desired batter consistency)
1 tablespoon aluminum-free baking powder
¼ teaspoons Celtic sea salt
¼ teaspoon organic nutmeg
¼ teaspoon organic cinnamon
3 tablespoons TheraSweet®
1 cup organic coconut milk
3 organic free-range eggs
1 tablespoon raw honey
4 tablespoons organic coconut oil
Sift all dry ingredients together. Mix liquid ingredients together, and then stir into dry ingredients. Pour medium-sized pancakes onto medium-hot griddle and cook until brown on one side then flip over until brown on the other side. Serve warm and enjoy! Garnish with seasonal berries.
Makes approximately 8 medium-sized pancakes.