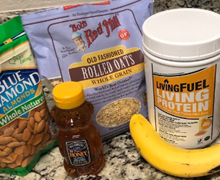 1 cup LivingProtein®
1 cup rolled oats (or brown rice flakes or quinoa flakes if gluten free)
6-1/2 oz almonds (roasted) - chopped
1 cup flaxseeds
2 oz pitted dates - chopped
1/3 cup honey (brown rice syrup or maple syrup) - warmed
2 tbs coconut oil - melted
1 1/2 oz 70k chocolate melts
Line an 8 inch loaf pan with baking paper
Combine protein powder, oats, almonds, flaxseeds, and dates in a bowl, mixing well
In a separate bowl, combine honey and coconut oil and mix into dry ingredients
Press mixture firmly into prepared tin, smoothing the top with the back of a spoon
Place chocolate in a microwaveable bowl and melt in the microwave for 1 minute, then 30 second intervals, stirring in between, until fully melted. Transfer to a ziplock bag (cutting the corner off) and drizzle over loaf. Alternatively, pour chocolate in one even layer over top and smooth out
Refrigerate for 2 hours to set and cut to desired size/shape. Enjoy!
Submitted by Rey Tyler