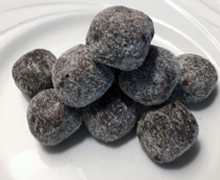 1 packet CocoChia® Snack Mix
2 tablespoons organic almond butter (or your favorite organic nut butter)
Mix ingredients thoroughly in a mixing bowl. Roll batter into small, approximately one-inch diameter balls and place in freezer-proof container. Freeze overnight and enjoy!
For some delicious variations, add ½ smashed banana, 2 tablespoons of organic dark chocolate chips, or ¼ cup goat's milk yogurt, or coconut milk yogurt. Adjust ingredients to taste. For added protein, fiber, and probiotics add 1 scoop of LivingProtein along with ¼ to ½ cup water to help mix it in the batter.