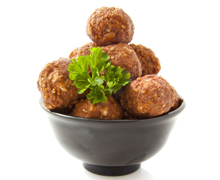 2 scoops LivingProtein®
1 pound organic, grass-fed ground beef (or bison)
1 cup grated organic parmesan cheese
2 free-range organic eggs
2 teaspoons organic Italian seasoning
4 cloves organic garlic, crushed
1 teaspoon fine ground Celtic Sea Salt (add more to taste)

Preheat oven to 350 degrees. Mix all ingredients together in a bowl. Use a spoon to make approximately 1-inch diameter meatballs. Lightly coat meatballs in extra virgin olive oil or coconut oil and lay on a baking dish. Place baking dish in preheated oven and bake for 15 to 20 minutes, turning meatballs once during the process.