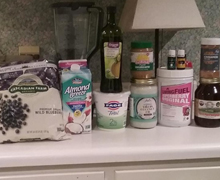 6 oz Blue Diamond Unsweetened Vanilla Flavored Almond/Coconut blend milk
1/2 cup Fage 2% Greek Yogurt
1 tsp Organic Virgin Coconut Oil
1 spoonful Sunbutter Organic Sunflower butter (can substitute All-Natural Creamy Peanut butter)
2 scoops SuperBerry® Ultimate or Original
1/2 tsp Cinnamon
1 Tbls Extra Virgin Organic Olive Oil
2/3 cup Favorite Frozen Organic Fruit (Blueberries, Strawberries, or Blueberry/Raspberry/Blackberry mix
1/2-1 tsp 100% Pure Sorghum (per your taste)
2 drops Young Living Lemon Essential Oil (for energizing, circulatory support, cleansing,enhanced flavor, supports nervous & sympathetic system)
2 drops Young Living Peppermint Essential Oil (for energizing, digestive support, may improve taste & smell, may help improve concentration & mental sharpness)
Ice
Add ingredients in the order listed above to your container. Top with ice. Blend. Enjoy!
Submitted by Steve Whitehead