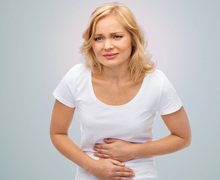 Inflammatory bowel disease is becoming more common in the U.S. and in Europe and part of its rise can be attributed to the overuse of prescription medication. That's because researchers in Sweden and the U.S. have found the use of antibiotics, especially those with broad spectrum microbial coverage, is associated with an increased risk for new-onset inflammatory bowel disease and its subtypes, ulcerative colitis and Crohn's disease.
IBD can substantially impact a patient's quality of life and has been linked to an increased risk of cancer and death. Scientists from Karolinska Institutet in Sweden and Harvard Medical School recently published their findings in The Lancet Gastroenterology & Hepatology to advance the medical community's understanding of the condition with the hope of reversing the growth trend.
As doctors become increasingly aware of the gut microbiome's role in human health, more emphasis is being placed not only on what the gut affects but what affects the gut. Researchers are looking at things that have an impact on the fragile ecosystem within our intestines.
This is believed to be the largest study of its kind related to antibiotics and IBD. The results show the more frequently antibiotics were used, the more likely a person developed UC or Crohn's disease.
"I think this affirms what many of us have suspected—that antibiotics, which adversely affect gut microbial communities, are a risk factor for IBD," said lead author, Dr. Long Nguyen at Massachusetts General Hospital and Harvard Medical School, Boston, U.S. "However, despite this compelling rationale and seemingly intuitive presumption, there have been no population-scale investigations to support this hypothesis until now."
Researchers used the database from Epidemiology Strengthened by histoPathology Reports in Sweden (ESPRESSO) to identify nearly 24,000 new IBD cases. There were 16,000 with UC and 8,000 with Crohn's. Those patients were compared with 28,000 siblings and 117,000 others from the general population. The data led researchers to conclude that those who had previously taken antibiotics were twice as likely to develop IBD, even when compared to their siblings and others who had not taken them.
The study was able to pull population-based data from a 10-year period which gave researchers confidence in their findings.
"To identify risk factors for IBD is important, and ultimately our aim is to prevent the disease," said Jonas F. Ludvigsson, pediatrician at Örebro University Hospital, and professor at the Department of Medical Epidemiology and Biostatistics, Karolinska Institutet. "Our study provides another piece of the puzzle and even more reason to avoid using antibiotics needlessly."
Click here to read more in The Lancet Gastroenterology & Hepatology.