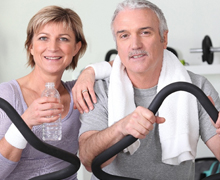 The conventional wisdom of having people scale back their physical activity after a cancer diagnosis is being challenged by new research. Scientists in Finland have found the resulting immune stimulation from exercise reduces the side effects of cancer treatments and improves the quality of life and prognosis of cancer patients.
Researchers at the University of Turku conducted studies with two sets of cancer patients to see how they responded to exercise. One set was dealing with lymphoma, while the other faced a breast cancer diagnosis. The study results were published in the journals Frontiers in Physiology and Scientific Reports, respectively.
"It was previously thought that cancer patients should just rest after a cancer diagnosis," said researcher Tiia Koivula. "Today, we have more and more researched information that exercise can even improve the prognosis of cancer. However, it is not yet fully known how exercise controls cancer."
The results of other studies found longer exercise sessions revved up the immune system and caused more immune cells to travel to the tumor site and actively attempt to destroy cancer cells. Turku scientists wanted to know if shorter bouts were sufficient and found 10 minutes of exercise were enough.
The two studies involved 28 participants who were recently diagnosed with lymphoma or breast cancer. The patients each completed a 10-minute session on an exercise bicycle. Blood samples were taken once prior to the activity and twice after completion.
"The pedaling resistance was determined individually for each patient so that it corresponded to light or moderate physical activity," Koivula said. "The most important goal was that the patients were able to pedal for 10 minutes straight without exhaustion, but so that their heart rate increased."
The lymphoma patients saw an increase in cytotoxic T cells and natural killer cells in the bloodstream, while breast cancer patients saw an increase in white blood cells, intermediate monocytes and B cells, as well as cytotoxic T cells and natural killer cells. The numbers rapidly rose as a result of the exercise but dropped to pre-exercise levels 30 minutes after the workout.
"It is especially interesting that we saw an increase in cytotoxic immune cells during the exercise in both patient groups," Koivula said. "These immune cells are capable of destroying cancer cells."
There was a direct link between exercise intensity and the number of immune cells observed in both groups. But Koivula stated it was important to remember that while more exercise was best, some exercise is better than nothing.
"Although our results indicate that the higher the exercise intensity is, the more immune cells are transferred from their storage organs into the bloodstream, it is notable that also light or moderate intensity exercise lasting for only 10 minutes will cause an increase in the number of immune cells which are important for fighting cancer," Koivula says. "Cancer treatments can make you tired and lower your motivation for exercise, which is why it is comforting to know that just 10 minutes of cycling or walking to a supermarket, for example, can be enough to boost the body's immune system."
Click here to read more about the lymphoma study in Frontiers in Physiology.
Click here to read more about the breast cancer study in Scientific Reports.