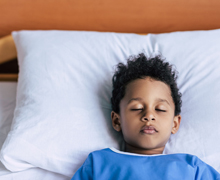 Researchers at Penn State have found that children who don't have regular bedtimes and don't get sufficient sleep are more likely to have a higher body mass index (BMI) as a teenager compared to their peers with better sleep habits. The results were published recently in the journal Sleep.
"Parenting practices in childhood affect physical health and BMI in the teenage years," said study co-author Orfeu Buxton. "Developing a proper routine in childhood is crucial for the future health of the child. We think sleep affects physical and mental health, and the ability to learn."
Analyzing data from the Fragile Families and Child Wellbeing Study, which represented 2,196 subjects from mainly urban areas in 20 U.S. cities, scientists discovered a correlation between childhood sleep patterns and elevated BMI. The study showed one-third of the children consistently adhered to what were described as "age-appropriate" bedtimes for ages 5-9. Children who did not stick to a bedtime routine at the age of nine had a higher BMI at age 15 compared to children with age-appropriate bedtimes.
The findings showed a similar correlation between healthy sleep patterns as a child and sufficient sleep durations in adolescence.
"Giving children the time frame to get the appropriate amount of sleep is paramount," Buxton said. He went on to explain parents should factor in enough extra time in the bedtime routine so the child gets enough sleep even if they don't fall asleep right away.
"In our sample that includes a large proportion of low-income, low-education, and ethnic minority households, only less than one third of children had age-appropriate bedtime routines at age 5 and 9," researcher Soomi Lee said. "This raises a concern about development and health of children in disadvantaged households. Future family interventions may need to include parental educations about sleep health, particularly focusing on parents with low income and low education."
Lee said the study underscores the importance of educating parents regarding sleep behavior, especially for those in low-income households. She said future studies should focus on whether childhood sleep behavior interventions are able to bring about healthier sleep patterns and healthier weight later in life.