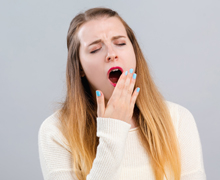 It's appropriate with Thanksgiving around the corner to talk about getting sleepy in the middle of the afternoon after eating. But researchers in Australia wanted to know what foods make some people susceptible to the risk of excessive daytime sleepiness on an everyday basis.
Scientists from Flinders University found a high intake of saturated fats and carbohydrates are the culprit. While that may not be a shock to many, their study methodology left little doubt after they kept participants locked within certain calorie limits and adjusted macronutrients to isolate the drowsiness triggers.
Researchers estimate excessive daytime sleepiness affects about 15 percent of Australia's population. They say it's a significant problem that needs to be addressed because of the associated societal and health consequences such as work-related injuries and errors along with obesity and cardiovascular disease.
"Unique to this study, we applied advanced methods to investigate the substitution effect of one macronutrient by other macronutrients," said Dr. Yohannes Melaku. "In other words, we looked at the effect of changing nutrients in the diet without changing the amount of calories consumed, allowing us to demystify the interplay and complex interaction among macronutrients in predicting daytime sleepiness."
The report published in the journal Nutrients showed intake of saturated fats were positively associated and carbohydrates were moderately associated with a feeling of being sleepy during the day. At the same time researchers said protein was inversely associated with excessive daytime sleepiness, meaning protein did not cause sleepiness and actually led to being more awake.
"This study highlights the important role of diet in predicting risk of daytime sleepiness among adults," said Professor Robert Adams. "People who have sleep related disorders (such as Obstructive Sleep Apnea patients) and disturbed circadian rhythm, such as shift-workers, could benefit from dietary interventions to alleviate excessive daytime sleepiness."
Both study authors agreed more research needed to be conducted regarding the replacement of high saturated fats and carbohydrates with proteins to correct the issue of excessive daytime sleepiness.
"In addition, the findings of this study have significant implications for alertness and concentration, which would be of particular concern to workers in certain industries," Adams added. "Our findings can assist in the design of trials involving substitution of food types in populations with excessive daytime sleepiness."