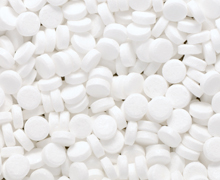 A daily dose of aspirin is often prescribed by doctors for patients who have had a heart attack or stroke to prevent a repeat episode. It is also recommended by many doctors for patients wanting to avoid a first cardiac event. But the advice for those who don't have a history of cardiovascular disease is coming under increased scrutiny as a result of new research that shows it could do more harm than good.
Aspirin poses a serious risk for major bleeding episodes according researchers Michael Kolber and Paul Fritsch who published their report in the journal Canadian Family Physician. They are encouraging physicians in Canada to discontinue the practice of prescribing aspirin as a preventative measure for those without a history of cardiovascular disease.
"This is the most significant practice-changing evidence to come out in the past year," said Kolber, a family medicine professor at the University of Alberta. He and Fritsch reviewed three large, randomized, placebo-controlled studies from last year that revealed the risk of internal bleeding associated with an aspirin a day far outweighs any potential preventative benefits.
"These aren't nosebleeds or bleeding gums," Fritsch said. "These are major internal bleeds where the patients need hospitalization and perhaps a blood transfusion, so they're of major clinical, and also personal, significance."
Fritsch also said one of the studies showed there was an increase in all-cause mortality related to an aspirin regimen that also included an increase in cancer deaths from daily aspirin doses.
Kolber said he believes the advice to take aspirin as a preventative measure, also known as acetylsalicylic acid or ASA, was based on flawed research. It gained acceptance in the medical community in the 1990s. He recently found data suggesting 40 percent of those living in Alberta, Canada over the age of 50 are taking aspirin to prevent heart disease, even though most have no history of a prior cardiovascular event.
"We really see an aspirin gap," said Kolber. "There are a lot of people taking aspirin for primary prevention who don't need it, and there's a group of people who already have cardiovascular disease who aren't taking it, and they should be."
He believes other preventative measures should be instituted based on the findings of his research.
"Instead of just taking a daily aspirin like we've been taught for a generation, we would recommend patients stop smoking, exercise, track their blood pressure and consider the Mediterranean diet," Kolber said. "The evidence for those measures is far superior to the evidence for aspirin."
Click here to read more in the journal Canadian Family Physician.