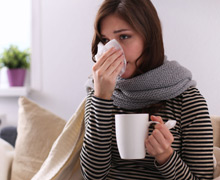 A ketogenic diet has been shown to have many benefits such as aiding in weight loss, improving heart health, reducing cancer risk and normalizing blood sugar levels. Now another advantage can be added to the list after researchers at Yale University were surprised by the fact it also helps combat the flu.
Scientists discovered mice fed a ketogenic diet were better equipped to fight the flu virus than mice given a diet high in carbohydrates. The results of the study were published in the journal Science Immunology and co-senior author Akiko Iwasaki said, "This was a totally unexpected finding."
A keto diet is low in carbohydrates, moderate in protein consumption and high in healthy fats. The purpose is to get the body to burn fat for fuel instead of glucose.
In this study the researchers found the keto diet activated a subset of T cells in the lungs which had not previously been associated with the body's immune system response to the flu. The T cells were able to trap the influenza virus and keep it from spreading.
Two curious researchers combined to test this concept. Ryan Molony was aware of immune system activators called inflammasomes that can be harmful to their host and Emily Goldberg had seen instances where a keto diet was able to block the formation of inflammasomes. They wondered if a keto diet could affect the immune system response to the flu virus.
Mice fed a ketogenic diet and infected with the flu virus had a higher survival rate than mice on a traditional high carbohydrate diet. The difference was found in the fact the keto diet triggered the release of gamma delta T cells, which are cells of the immune system that produce mucus in the cell lining of the lungs. The high carb diet did not trigger a similar response.
When researchers experimented with mice bred without the gene that codes for gamma delta T cells, they found the keto diet provided no protection against the flu virus.
"This study shows that the way the body burns fat to produce ketone bodies from the food we eat can fuel the immune system to fight flu infection," said co-senior author Visha Deep Dixit.