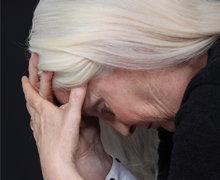 When the Fifth Dimension sang "Let the Sunshine In" back in 1969, they probably had no idea they were giving the prescription to help fight depression. But those lyrics take on a different meaning now with the results of a new study showing older adults deficient in vitamin D, the sunshine vitamin, are at a much greater risk of developing depression.
Researchers at Trinity College in Dublin, Ireland found a deficiency in vitamin D among the 4,000 study participants 50-years-of-age and older equated to a 75% greater risk of developing depression. The findings are part of The Irish Longitudinal Study on Ageing and were published in The Journal of Post-Acute and Long-Term Care Medicine.
"This is the largest representative and most comprehensive study of depression risk and vitamin D status in older adults ever conducted in Ireland," Dr. Robert Briggs said. "Our findings will provide useful information to help inform public health policy—particularly regarding the proposition of the usefulness of vitamin D treatment/supplementation for depression."
The study authors believe the findings could be attributed to vitamin D's effect on the brain. Other studies have linked a lack of vitamin D with neurodegenerative conditions like dementia and Parkinson's disease.
"This study shows that vitamin D is associated with a health condition other than bone health," said Dr. Eamon Laird. "What is surprising is the large effect on depression even after accounting for other control variables. This is highly relevant for Ireland as our previous research has shown that one in eight older adults are deficient in the summer and one in four during the winter. Moreover, only around 8% of older Irish adults report taking a vitamin D supplement."
Depression later in life has been shown to significantly reduce the quality of life for those experiencing it which increases in the chances for a host of health issues related to functional and cognitive decline and even premature death. Researchers said depression is often undiagnosed among the elderly so prevention is a priority. Fortunately, a deficiency in vitamin D is relatively easy and inexpensive to address through supplementation.
"Given that vitamin D is safe in the recommended intakes and is relatively cheap, this study adds to the growing evidence on the benefits of vitamin D for health," Laird said. "It also helps to continue to impress the need on our public health bodies to develop Irish vitamin D recommendations for the general public. Up to this point, these are severely lacking."
Click here to read more in The Journal of Post-Acute and Long-Term Care Medicine.