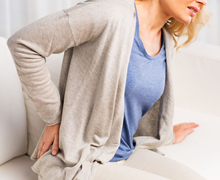 It turns out that back pain many people experience as they age may just be a sign they need more vitamin D. A new report in the journal Menopause from the North American Menopause Society shows a deficiency in vitamin D is associated with disc degeneration and lower back pain, especially in postmenopausal women.
Lumbar disc degeneration is a common musculoskeletal disease that causes lower back pain. The likelihood of this condition generally increases with age and it affects women at a greater rate than men. That fact is believed to be the result of decreased estrogen levels characteristic of women after menopause.
While estrogen decline has been linked to menopause, vitamin D deficiency is also common during this time of life as well. Vitamin D is critical to helping prevent bone diseases such as rickets and osteoporosis by enabling your body to maintain levels of calcium and phosphorous which are known to support bone health.
Other studies have shown lack of vitamin D is associated with lower back pain. Those studies showed that pain can be relieved through supplementation, which also helps improve musculoskeletal strength.
This study was different than previous ones. It explored the role of vitamin D in spinal degeneration especially in postmenopausal women.
This study concluded vitamin D deficiency is highly prevalent in postmenopausal women and a severe deficiency as defined by a serum concentration of 10 ng/mL should be considered an indicator of severe disc degeneration and lower back pain. Researchers also identified other risk factors for lower back pain such as smoking, high BMI and osteoporosis.
"This study shows that very low vitamin D levels were linked to a greater likelihood of moderate to severe lower back pain and more severe lumbar disc degeneration, possibly because of the beneficial effects vitamin D has on nerve and muscle pain sensitivity, muscle strength and mass, and inflammation," says Dr. Stephanie Faubion, NAMS medical director. "Although not all women need vitamin D supplementation, this speaks to the importance of avoiding severe vitamin D deficiency states."
Click here to read more from The North American Menopause Society.