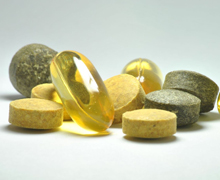 Nutrition researcher Bruce Ames, Ph.D., who spent more than 10 years compiling the list, says the key to healthy aging is adequate consumption of what he calls "longevity vitamins." He made this pronouncement in a perspectives report published in the Proceedings of the National Academy of Sciences.
Using his own research and the findings of other scientists, Ames identified a key class of vitamins, minerals and other nutrients vital to longevity and staving off chronic conditions like heart disease, cancer and possibly neurodegeneration. The list includes well-known substances such as vitamin D, vitamin K, selenium and magnesium, as well as lesser-known elements like taurine, lutein, zeaxanthin, lycopene, and astaxanthin.
"Because nutrient deficiencies are highly prevalent in the United States and elsewhere, appropriate supplementation and/or an improved diet could reduce much of the consequent risk of chronic disease and premature aging," Ames said. "Diet is very important for our long-term health and this theoretical framework just reinforces that you should try to do what your mother told you: eat your veggies, eat your fruit and give up sugary soft drinks and empty carbohydrates."
Ames describes how when the body faces a shortage of key nutrients it rations them to enable critical functions to continue for immediate survival but at the expense of long-term physiological health. These tradeoffs were evident in some of the research Ames cites in his report.
In one such study Ames detailed what happens when there is a chronic deficiency in vitamin K, which is vital in blood clotting and is a key component in more than a dozen enzymes produced by the body. When forced to ration vitamin K the body produces fewer enzymes required for keeping the arteries clear, which has been linked to higher rates of mortality from cardiovascular disease.
Ames believes the list of longevity vitamins could grow as more research is conducted but it will take time. Unlike "survival vitamins," such as vitamin C, which can cause someone to become sick pretty quickly when there is a shortage, the process of aging must be observed over time with the shortage of longevity vitamins.
"The prevention of the degenerative diseases of aging is a different science than curing disease: it will involve expertise in metabolism, nutrition, biochemistry and genetic regulatory elements and polymorphisms," Ames writes. "This may be a theoretical paper, but I hope it can add a few years to everyone's lives."
Click here to read more in the Proceedings of the National Academy of Sciences.