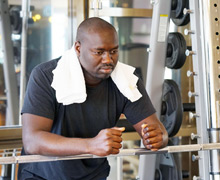 A new way of looking at exercise is resolving the catch-22 situation for people suffering from peripheral artery disease. Researchers from the University of New South Wales have found resistance training can be an effective supplement to the current gold standard prescription of interval walking, which can trigger pain.
PAD is a narrowing of the arteries caused by a plaque build-up resulting in reduced blood flow and less oxygen going to the legs. Those with this common form of cardiovascular disease typically experience a cramping in the legs while walking.
"One of the biggest issues is that peripheral artery disease is asymptomatic to start and only gets diagnosed when patients present to their doctor with the cramping pain," says Dr. Belinda Parmenter, Deputy Head of UNSW's School of Medical Sciences. "Once symptoms kick in, they can often be really painful—we call the main symptom intermittent claudication. Essentially, it means people experience severe muscle cramps when they are physically active, like when walking, which is then relieved by rest."
One problem with PAD is the source of pain is also the source of healing. "Doctors' main recommendation for people with PAD is to walk, as it is the most effective treatment for symptoms of the disease." says Dr. Parmenter. "However, this prescription often means that a lot of patients can't and don't comply due to the pain the walking causes them."
Unfortunately, avoiding the painful cramping through sedentary behavior can lead to a progression of the vascular damage. If no changes are made it will likely lead to a heart attack or stroke when the narrowing advances to the arteries of the heart.
A question from a trusted source got Dr. Parmenter thinking about a different approach. "I actually got the idea to study resistance training from my dad—he's a vascular surgeon who said to me, "What do I do about my patients who can't walk? How can I help them?""
She studied resistance training and found it effective in helping patients with PAD walk longer without cramping.
"It's really exciting—we found that high-intensity weight training improves people's walking ability," Dr. Parmenter said. "The results indicated that it was effective at improving all forms of walking—both graded treadmill and flat ground walking.
"It improved how far someone could walk before the pain kicked in, and their total walking distance," she added. "Crucially, weight training allows patients to train the muscle groups that aren't affected by claudication, so they can avoid cramps altogether during the sessions."
Dr. Parmenter believes weight training will also help PAD patients get an earlier and more accurate diagnosis of heart disease.
"The leg pain often stops them during any cardiac stress testing protocols too, so we don't ever get to see how the heart is coping under higher loads," Dr. Parmenter says. "This is another reason why weight training is so powerful for patients with PAD—it helps to improve their ability to walk and complete other forms of exercise. Once they can work a bit harder, we often end up diagnosing heart disease, and can intervene before it's too late."
Click here to read more in the British Journal of Sports Medicine.