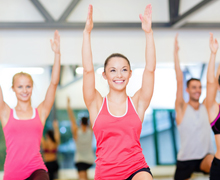 With the list of benefits related to yoga growing as fast as the list of side effects from anxiety medication, it may be time for doctors to start prescribing yoga instead of pills for depression. Researchers from the Boston University School of Medicine used brain imaging to discover yoga increases the levels in the brain of Gamma-amino butyric acid (GABA) which has been shown to mitigate depressive symptoms.
The World Health Organization says depression affects about 16 million people a year in the U.S. and is the leading cause of disability throughout the world. Research is being conducted to find effective treatments and some scientists are focusing on GABA, an amino acid that serves as a neurotransmitter in the central nervous system.
Boston University researchers worked with a group of 30 clinically depressed patients and divided them randomly into two groups. One was designated the high-dose group and the other was labeled the low-intensity group.
Participants submitted to magnetic resonance imaging (MRI) scans of their brains prior to starting any training. They also had their symptoms monitored by clinical depression scale testing. They then had a second MRI after the last yoga session.
Both groups participated in lyengar yoga and coherent breathing sessions. The difference between the two groups was the number of sessions they were prescribed during the three-month study. The high-dose group completed three sessions per week and the low-intensity group completed two.
The MRI results showed an increase in GABA levels for both groups after the three-month study. The levels remained high for approximately four days after the last training session. However, the level increase was no longer observed eight days after the last yoga session which meant those looking to maintain their gains would need to continue practicing yoga.
"The study suggests that the associated increase in GABA levels after a yoga session are 'time-limited' similar to that of pharmacologic treatments such that completing one session of yoga per week may maintain elevated levels of GABA," said corresponding author Chris Streeter, MD.
The researchers believe the results they saw in this study will be helpful in encouraging more people to try yoga as a way to improve their mental health as well as overall wellbeing.
"A unique strength of this study is that pairing the yoga intervention with brain imaging provides important neurobiological insight as to the 'how' yoga may help to alleviate depression and anxiety," said collaborator and co-author Marisa Silveri, Ph.D. "In this study, we found that an important neurochemical, GABA, which is related to mood, anxiety and sleep, is significantly increased in association with a yoga intervention."
Click here to read more in The Journal of Alternative and Complementary Medicine.