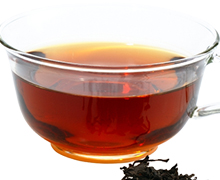 Much has been made recently of the benefits of green tea. But that is just one variety of teas that can provide a healthy bonus for drinkers. Scientists from the University of Adelaide in Australia and Southeast University in China found those who drank dark tea on a daily basis had a 53 percent lower risk of prediabetes and a 47 percent lower risk of diabetes than those who don't drink any tea.
Those findings were even after taking into consideration risk factors that increase the chances of developing diabetes such as age, BMI, blood pressure, smoking status, family history of diabetes and exercise.
"The substantial health benefits of tea, including a reduced risk of cardiovascular disease and type 2 diabetes, have been reported in several studies over recent years, but the mechanisms underlying these benefits have been unclear," said Adelaide professor Tongzhi Wu. "Our findings hint at the protective effects of habitual tea drinking on blood sugar management via increased glucose excretion in urine, improved insulin resistance and thus better control of blood sugar. These benefits were most pronounced among daily dark tea drinkers."
The study consisted of nearly 2,000 adults, both men and women, between the ages of 20-80. They were asked about their tea-drinking habits such as what type and how often. The participants had the excretion of glucose in their urine tested as well as their insulin resistance and glycemic status.
Researchers accounted for the risk factors and found daily tea drinkers had in increase in urinary glucose excretion and a reduction in insulin resistance. But the daily consumption of dark tea conferred the biggest reduction.
Researchers believe the benefits from dark tea may come from the way it is produced which includes microbial fermentation. That's a process they say is responsible for unique bioactive compounds such as alkaloids, polyphenols, polysaccharides and others that provide antioxidant and anti-inflammatory benefits. They also improve insulin sensitivity and help the performance of beta cells in the pancreas as well as positively affect the composition of gut bacteria.
"These findings suggest that the actions of bioactive compounds in dark tea may directly or indirectly modulate glucose excretion in the kidneys, an effect, to some extent, mimicking that of sodium-glucose co-transporter-2 (SGLT2) inhibitors, a new anti-diabetic drug class that is not only effective at preventing and treating type 2 diabetes, but also has a substantial protective effects on the heart and kidneys," Wu said.
"Our findings suggest that drinking dark tea every day has the potential to lessen type 2 diabetes risk and progression through better blood sugar control," said Southeast professor Zilin Sun. "When you look at all the different biomarkers associated with habitual drinking of dark tea, it may be one simple step people can easily take to improve their diet and health."
Researchers cautioned that correlation does not mean causation because other factors may be involved.