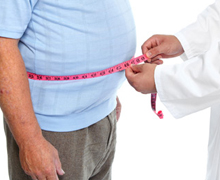 Weight gain can be directly attributed to lifestyle choices such as diet and exercise, but there are now environmental factors to consider. New research from the University of Rhode Island found a direct link between "forever chemicals" in drinking water and being overweight; as well as having difficulty in keeping weight off after losing it.
Philippe Grandjean, M.D., Ph.D., led the efforts to study the impact of manmade PFAS (per-and polyfluoroalkyl substances) pollution, in drinking water and had the study findings published in the journal Obesity.
"We've previously shown that children with increased PFAS concentrations tend to gain weight and develop higher levels of cholesterol in the blood," said Grandjean. "We now focused on adults who participated in an experimental study of five different diets in regard to weight gain. Our results add to the concern that environmental pollution may be affecting our metabolism, so that we tend to gain weight."
Researchers analyzed the PFAS chemicals in 381 blood samples as part of a trial focused on weight loss planning for obese adults. It was determined those with elevated PFAS levels had difficulty losing weight regardless of the diet plan used.
One chemical commonly found in contaminated drinking water, perfluorooctanoic acid (PFOA), appeared to have the strongest tie to obesity. Those in the study with the highest amounts in their blood had on average gained 10 pounds more than those with low levels at the one-year follow-up mark of the study.
"Our study adds new evidence that being overweight isn't just about a lack of physical activity and unhealthy eating habits—PFAS are increasingly suspected to be a contributing factor," said Grandjean. "The PFAS exposures in the European participants are quite comparable to levels in America, so my concern is that our exposures to PFAS are making it difficult for us to avoid getting overweight."
PFAS are called forever chemicals because of their ability to stay in the environment for a long time. They are usually colorless, odorless and tasteless and are commonly used to create barriers or prevent liquids from seeping through permeable surfaces. They are often found in non-stick cookware, microwave popcorn bags and pizza boxes as well as on waterproof clothing and as a stain barrier on carpet and furniture.
These chemicals have the ability to leach into drinking water from commercial and marine applications.
"The hard science is the main tool the government has upon which to make changes that move us closer to either lessening or removing PFAS from our water, our lives, our environments," said Rainer Lohmann, a URI chemical oceanographer. "PFAS presents a long-term challenge, but we are making steady progress."
"The EPA has recently proposed binding guidelines for water contamination," said Grandjean. "I hope that the new regulation will be successful, and now I have an additional reason to hope."