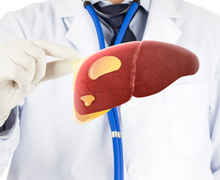 Non-alcoholic fatty liver disease (NAFLD) is a dangerous buildup of fat on the liver not related to alcohol consumption. A new study from the University of Chicago found alternate-day fasting along with aerobic exercise was able to successfully reduce the fat buildup in their study subjects.
It is estimated about 65 percent of obese adults have NAFLD which can lead to the development of insulin resistance and type 2 diabetes. Over time it can cause even more serious complications such as cirrhosis and liver failure.
Researchers found over a three-month period that those who exercised and alternated fast and feast days lost weight, decreased their liver fat, had increased insulin sensitivity and lower ALT (alanine transaminase enzyme) levels, which is a marker for liver disease.
The alternate-day fast consisted of eating without restriction one day followed by consuming 500 calories or fewer the next day, while the exercise consisted of five days per week of moderate work on an elliptical training machine.
"When we compared the results of our study groups, we saw clearly that the most improved patients were in the group that followed the alternate-day fasting diet and exercised five days a week," said study author Krista Varady, professor of nutrition at the College of Applied Health Sciences. "The people who only dieted or only exercised did not see the same improvements, which reinforces the importance of these two relatively inexpensive lifestyle modifications on overall health and on combating chronic diseases like fatty liver disease."
There were a total of 80 participants in the study who were randomly assigned to one of four groups – an exercise-only, fasting-only, exercise and fasting and a control group that made no changes to their behavior.
"Alternate-day fasting and exercise interventions can be difficult for people to stick to and in prior studies we have seen significant dropout," said Varady. "It was very interesting to see that in this trial we had very high adherence to the interventions."
Researchers noted there were no serious safety events during the trial. That was an indication the subjects were able to safely maintain the diet and exercise for three months. Varady found that encouraging because it's a way to improve the condition of the liver that is relatively inexpensive and can be done without the use of pharmaceutical interventions that can have side effects.