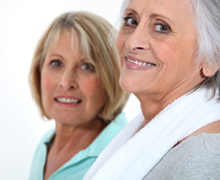 If your jeans are too tight and you think it's just a function of your genes, there is hope. A new study shows older women don't have to give in to the notion they were born to be fat because exercise is more powerful than genetics when it comes to determining body mass.
The study published in Menopause, the journal of The North American Menopause Society (NAMS), shows that as women get older the ability to overcome a genetic predisposition to obesity through exercise increases.
Previous studies have shown that the genetic influence on body mass index (BMI) becomes more prevalent as people go from childhood to early adulthood. But not much research has been done on the effect of obesity genes later in life. The purpose of this study was to determine if that predisposition can be overcome through lifestyle modification such as exercise.
The results of a study involving more than 8,200 women showed that physical exercise does in fact reduce the influence of the genetic predisposition to obesity in postmenopausal women. And the ability of exercise to tip the balance of the scale was more significant as women aged. It was strongest in women aged 70 years or older.
"We are born with our genes, but this study suggests that we can improve our lives and health with exercise, regardless of genetics," says Dr. JoAnn Pinkerton, NAMS executive director. "As women age, exercise has been shown to improve muscle mass, balance, and bone strength. It also invigorates brain cells, is associated with less arthritic pain, and improves mood, concentration, and cognition. Regardless of age, genes, and amount of abdominal fat or BMI, regular exercise can improve health."