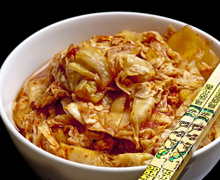 Fermented foods and dietary fiber are both beneficial for gut health. But if you had to choose between the two it appears fermented foods are more valuable. A study from Stanford University found a diet rich in fermented foods enhances the diversity of gut microbes while also decreasing the molecular signs of inflammation, results not seen from fiber intake alone.
Researchers conducted a trial with 36 healthy adults and randomly assigned them to a 10-week eating plan that included either fermented foods or high-fiber foods. Blood and stool samples were analyzed in the 3-weeks leading up to the trial, during the 10-week trial and then in the 4-weeks post trial. What they found were different effects on the immune system and gut microbiome.
Eating fermented foods, such as yogurt, kefir, kombucha tea, kimchi and others, resulted in an increase in overall microbial diversity. And the more fermented foods they ate, the stronger the effects. The high-fiber diet, which was rich in legumes, seeds, whole grains, nuts, vegetables and fruits, did not increase the diversity of the gut microbiome.
"This is a stunning finding," said Justin Sonnenburg, Ph.D., an associate professor of microbiology and immunology. "It provides one of the first examples of how a simple change in diet can reproducibly remodel the microbiota across a cohort of healthy adults."
The levels of 19 different inflammatory proteins measured in the blood decreased in the fermented foods group, while none of those levels decreased in the group assigned to the high-fiber diet.
"We expected high fiber to have a more universally beneficial effect and increase microbiota diversity," said Erica Sonnenburg, Ph.D., a senior research scientist in basic life sciences, microbiology and immunology. "The data suggest that increased fiber intake alone over a short time period is insufficient to increase microbiota diversity."
Previous research has shown what a person eats shapes the gut microbiome. That in turn has the ability to affect their immune system and their overall health.
"We wanted to conduct a proof-of-concept study that could test whether microbiota-targeted food could be an avenue for combatting the overwhelming rise in chronic inflammatory diseases," said Christopher Gardner, Ph.D., the Rehnborg Farquhar Professor and director of nutrition studies at the Stanford Prevention Research Center. "Microbiota-targeted diets can change immune status, providing a promising avenue for decreasing inflammation in healthy adults. This finding was consistent across all participants in the study who were assigned to the higher fermented food group."