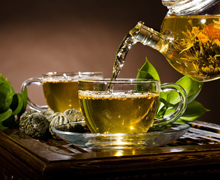 Green tea has the reputation of being one of the healthiest beverages you can drink and a study just released lends more credence to that claim. Researchers from The Ohio State University found consuming green tea extract for a month was able to lower blood sugar and improve gut health by reducing inflammation and gut permeability.
A total of 40 adults took part in the randomized, controlled, crossover trial which was a follow-up to a 2019 study that found lower obesity levels, improved gut health and fewer health risks in mice that consumed green tea supplements.
Half of the participants were considered healthy and half suffered from metabolic syndrome, which affects about a third of the adult American population. People with metabolic syndrome have at least three of five factors associated with an increase in the risk for heart disease, diabetes or other health problems. Those factors are excess belly fat, high blood pressure, low levels of HDL cholesterol, high levels of fasting blood glucose and high triglycerides, which is a type of fat in the blood.
The first part of the trial saw the participants consume catechin-rich green tea extract in the form of gummy candies daily for 28 days. That period was followed by a month with no supplements and then another 28 days with a placebo.
The daily amount of green tea extract they consumed equaled five cups of green tea. Researchers made sure the study participants had a diet low in polyphenols during the placebo and green-tea consumption periods. Polyphenols are naturally occurring antioxidants in fruits, vegetables, teas and spices and the purpose of avoiding them was so any study effects could be attributed to the green tea alone.
The results showed all participants had significantly lower fasting blood glucose levels after taking the green tea extract when compared to the placebo. They also had decreased gut inflammation which was measured through fecal samples.
The green-tea consumption also correlated to less small intestine permeability (leaky gut). A leaky gut allows intestinal bacteria and other toxic compounds to enter the bloodstream which can trigger low-grade chronic inflammation.
"There is much evidence that greater consumption of green tea is associated with good levels of cholesterol, glucose and triglycerides, but no studies have linked its benefits at the gut to those health factors," said Richard Bruno, senior study author and professor of human nutrition at The Ohio State University. "What this tells us is that within one month we're able to lower blood glucose in both people with metabolic syndrome and healthy people, and the lowering of blood glucose appears to be related to decreasing leaky gut and decreasing gut inflammation—regardless of health status."
Bruno went on to say, "If we can improve gut integrity and reduce leaky gut, the thought is we'll be able to not only alleviate low-grade inflammation that initiates cardiometabolic disorders, but potentially reverse them."
Click here to read more in the journal Current Developments in Nutrition.