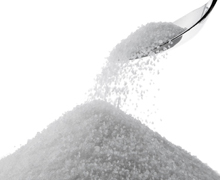 The COVID-19 pandemic has caused many people to place a greater emphasis on strengthening their immune system by adding extra nutrition to their diet. However, if one common food item is not reduced it could render their efforts fruitless. That's because European researchers have concluded a diet high in the processed sugar fructose could inhibit the proper functioning of the immune system through increased inflammation.
Scientists from Swansea University in Wales, the University of Bristol in England and the Francis Crick Institute in London collaborated on this targeted research and published their findings in the journal Nature Communications.
The study revealed the consumption of fructose causes the immune system to become inflamed and that leads to the production of more reactive molecules associated with inflammation. This inflammation can cause damage to cells and tissues and also decrease the effectiveness of organs and bodily systems. The end results researchers said is an increase in the likelihood of disease.
Fructose is commonly found in sugar-sweetened drinks as the ingredient high-fructose corn syrup. Fructose is a component of table sugar and also heavily used in the production of many processed foods such as cakes, cookies, crackers and cereal.
High levels of fructose consumption have been associated with type 2 diabetes and non-alcoholic fatty liver disease. Both of which have been on the rise recently. Researchers wanted to understand the subject further since the impact to the immune system has been limited to this point.
"Research into different components of our diet can help us understand what might contribute to inflammation and disease and what could be best harnessed to improve health and wellbeing," said Dr. Nick Jones of Swansea University's Medical School.
The research helped the scientists better understand how fructose consumption, which triggers low-level inflammation, could be linked to diabetes and obesity since that inflammation is often associated with obesity. It also builds on the growing body of evidence regarding other harmful effects of fructose consumption at high levels.
"Our study is exciting because it takes us a step further towards understanding why some diets can lead to ill health," said Dr. Emma Vincent in the Bristol Medical School.
Click here to read more in the journal Nature Communications.