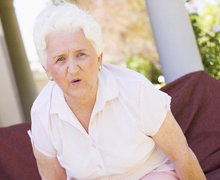 Inadequate hydration is a condition that can lead to health consequences for all ages. But a new study shows seniors are at a greater risk. Researchers from the UCLA School of Nursing found the elderly are particularly prone to underhydration and dehydration which can lead to among other things urinary tract infections and frequent falls.
Education and prevention efforts are in order based on the latest data from the Agency for Healthcare Research and Quality which shows there was a five percent increase in preventable emergency room visits between 2008 and 2012 directly attributable to dehydration. And adults over the age of 65 have the highest hospital admission rates for dehydration.
The study, published in the journal SAGE Open Nursing, tracked the hydration levels of adults from two senior centers and an adult day care center in Los Angeles. Levels were checked twice a day over a three-week period and results showed elderly participants had higher levels of osmolality compared to younger adults.
Salivary osmolality is a test for hydration that involves comparing the ratio of water to certain chemicals naturally found in saliva. A higher level indicates greater dehydration.
Researchers found osmolality was higher during the morning hours and among seniors with limited mobility. Surveys of study participants showed the biggest reason for the low hydration levels in the morning stemmed from psychological barriers, including the fear of overnight incontinence issues.
"So many health issues are related to inadequate hydration," said Janet Mentes, professor of nursing at UCLA. "The most closely linked are urinary tract infections. Many seniors are underhydrated for a period of time, and when they are exposed to a virus or bacteria they are more likely to develop an infection, such as urinary tract infections, pneumonia or other respiratory diseases. And they will be treated for the infection, but the underlying underhydration will not be recognized. Thus, an opportunity to educate the individual about adequate fluid intake is missed."
It is estimated up to 40 percent of elderly people living in community settings may be chronically underhydrated which can lead to serious health consequences. Mentes also said underhydration, especially in the morning, makes seniors more susceptible to falls.