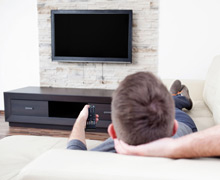 Survey results are in and 1.4 billion people or more than 25 percent of the world's adult population is not getting enough physical activity according to researchers at the World Health Organization. While the global numbers are bad, it's worse in America where nearly half of all adult women and one-third of adult men don't get enough physical activity.
The study results published in The Lancet Global Health journal paint a dim picture of health around the world with little improvement in activity levels from 2001 to 2016. That leaves in doubt the WHO's goal of reducing the inactivity rate 10 percentage points by the year 2025.
Insufficient activity is a leading risk factor for non-communicable diseases such as heart disease, type-2 diabetes, cognitive decline and some cancers. Sufficient activity is defined as 150 minutes of moderate-intensity or 75 minutes of vigorous-intensity physical activity, or some combination of the two, on a weekly basis. This could be at work, home, for transport or leisure.
The study is based on self-reported activity levels in people aged 18 and over from 358 population-based surveys covering 1.9 million volunteers from 168 countries.
"Unlike other major global health risks, levels of insufficient physical activity are not falling worldwide, on average, and over a quarter of all adults are not reaching the recommended levels of physical activity for good health," says the study's lead author, Dr. Regina Guthold.
Some key findings include a big disparity in what are defined as low-income countries and high-income countries. The inactivity rate in low-income countries was 16 percent, which is relatively unchanged from the last survey in 2001. However, the inactivity rate in high-income countries rose five percent during that same time frame to its current level of 37 percent. The biggest regional decline in the inactivity rate happened in southeast Asia where the percentage dropped from 26 to 17 percent as a result of increased activity in China.
"Regions with increasing levels of insufficient physical activity are a major concern for public health and the prevention and control of non-communicable diseases," says Dr. Guthold.
The countries with the highest inactivity levels were Kuwait (67 percent), American Samoa (53 percent) and Saudi Arabia (53 percent). The lowest levels were found in Uganda and Mozambique. Each registered an inactivity level of just six percent.
Globally, the study revealed 32 percent of women and 23 percent of men are consistently not reaching the recommended activity levels.
"Addressing these inequalities in physical activity levels between men and women will be critical to achieving global activity targets and will require interventions to promote and improve women's access to opportunities that are safe, affordable and culturally acceptable," said co-author Dr. Fiona Bull.
Click here to read more in The Lancet Global Health journal.