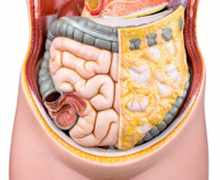 One of the concerns associated with aging is a breakdown in the gut barrier that could allow potentially toxic substances into the blood stream. New research from Europe shows a diet high in plant-derived polyphenols has the ability to fortify the intestinal lining and decrease intestinal permeability in the elderly.
A leaky gut can also be caused by an unhealthy diet as well as food allergies and intolerances. It has been attributed to the development of chronic conditions such as cardiovascular disease, diabetes and even Alzheimer's.
Researchers from the University of Barcelona studied the subject and published their findings in the journal Clinical Nutrition. They worked with a group of people over the age of 60 who were given a polyphenol-rich diet for eight weeks.
The study participants had three portions a day of either apple, cocoa powder, dark chocolate, green tea, cranberries, oranges or pomegranate juice. Researchers found it led to positive changes in the gut microbiota and improved intestinal permeability.
Study authors Gregorio Perón and Tomás Meroño said, "We studied the existing relationship between the metabolism of the elements of the diet, microbiota and intestinal permeability, by analyzing the changes that are caused by a polyphenol-rich diet in the microbiota of the participants in our study and testing the resulting improvement of their gut barrier."
The scientists analyzed blood and stool samples and saw an increase of the serum metabolome related to polyphenol intake. "For instance, theobromine and methylxanthine ─ derived from cocoa and green tea─ are positively correlated with butyrate-producing bacteria (a fatty acid in the intestinal flora), and inversely with zonulin, a protein related to the intestinal permeability," they said.
"The study of the relationship between intestinal permeability, microbiota composition and food metabolism has to be the base for establishing customized diets for every life stage, especially for the elderly," said Cristina Andrés-Lacueva. "A higher intake of fruits, vegetables and foods such as those described in this paper provide fiber and polyphenols that could help counterbalance the damaging of permeability due to aging."