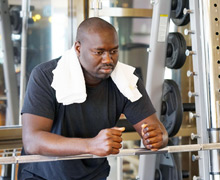 The results of a new study show intake is more important than source when it comes to protein for muscle and strength development as long as you are getting adequate amounts. Researchers in Brazil saw similar gains in strength and muscle mass for study participants who worked out whether they consumed a vegan or omnivorous diet.
Scientists from the University of Sao Paulo studied 38 healthy, young adults for 12 weeks. Half of them were vegans and half were omnivores. They each performed similar exercises to increase strength and muscle mass and kept to a diet of animal and plant protein or strictly plant protein. Each participant consumed 1.6 grams of protein per kilogram of body weight per day and at the end of the three months there was no difference between the participants in terms of strength and mass gains.
Protein is the source of essential amino acids the body uses for muscle development. Animal protein has more leukin, which plays a role in the anabolic stimulation of skeletal muscles which is why it is thought vegans have diminished ability to gain muscle mass. Roshel's research found that to not be the case.
"Our findings show that there is no impairment of muscle mass gain for young adult vegans if they ingest the right amount of protein," Roschel said. "In fact, the outcome of both diets was the same in this respect.
"In clinical practice, we know foods of animal origin generally have a higher protein content," Roschel added. "Meat, milk and eggs contain more protein per gram than rice and beans, for example. In a clinical application with plant-based foods as the sole protein source, vegans would need to ingest a large amount of food to obtain the same amount of protein. In some specific cases, this could be a major challenge."
Typically, vegans don't get enough protein unless they supplement their protein intake. The vegans in this study were given soy protein so they could meet the intake requirements.
"This result corroborates other data in the literature showing that a vegan diet can absolutely be complete if it is properly planned and executed," Roschel said. "Previous studies suggest it can even be healthier than an omnivorous diet. For this to be the case, however, it requires appropriate nutritional counseling and education regarding people's choices in restricting their intake to plant-based sources."
Roschel cautioned his findings should not be generalized for the entire population since his subjects were young and healthy.
"Aging entails a phenomenon known as anabolic resistance, meaning a suboptimal anabolic response to the stimuli provided by diet and exercise compared with young people," Roschel said. Optimal response is possible in older people only if their protein intake is higher than that of the average healthy youngster."