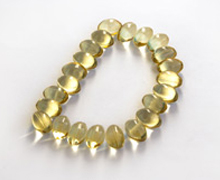 The D in vitamin D does not stand for diabetes, but you might start thinking that way as new research from the Salk Institute shows it could hold the key in helping patients with type 2 diabetes. Scientists revealed in the journal Cell a potential new approach to treating diabetes that involves protecting beta cells with vitamin D.
Beta cells are the cells in the pancreas that are responsible for producing, storing and releasing the hormone insulin. When the beta cells stop working properly, the body is unable to produce insulin to control blood sugar, which can lead to a dangerous rise in blood sugar levels.
"We know that diabetes is a disease caused by inflammation," said Salk researcher Ronald Evans. "In this study, we identified the vitamin D receptor as an important modulator of both inflammation and beta cell survival."
Scientists were able to identify a compound in beta cells called iBRD9 that when combined with vitamin D activated the vitamin D receptor to improve the survival of beta cells. After proving the concept in a dish, researchers then tested the combination in a mouse model where they showed it could return glucose levels back to normal.
"Activating the vitamin D receptor can trigger the anti-inflammatory function of genes to help cells survive under stressed conditions," said study co-author Michael Downes. "By using a screening system that we developed in the lab, we've been able to identify an important piece of that puzzle that allows for super-activation of the Vitamin D pathway."
According to the Centers for Disease Control and Prevention, more than 27 million people in the U.S. have type 2 diabetes. And that number continues to grow as more and more people are becoming overweight and obese.
"This study started out by looking at the role of vitamin D in beta cells," said Zong Wei. "Epidemiological studies in patients have suggested a correlation between high vitamin D concentrations in the blood and a lower risk of diabetes, but the underlying mechanism was not well understood. It's been hard to protect beta cells with the vitamin alone. We now have some ideas about how we might be able to take advantage of this connection."
Scientists believe this breakthrough discovery can also have an impact on other diseases such as cancer where a boost in the effect of vitamin D would be beneficial. There were no apparent side effects during the testing but more research needs to be done before clinical trials can be conducted.