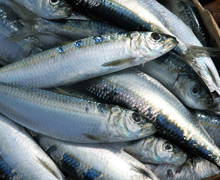 Eating small, oily fish like sardines has been found in studies to help regulate cholesterol and also prevent the development of cardiovascular disease. Spanish researchers have now found regular sardine consumption can help prevent the onset of type 2 diabetes in those most susceptible.
Scientists at Universitat Oberta de Catalunya in Barcelona conducted a study with 152 patients aged 65 and older who were diagnosed with prediabetes and published their findings in the journal Clinical Nutrition.
"Not only are sardines reasonably priced and easy to find, but they are safe and help to prevent the onset of type 2 diabetes," said researcher Diana D. Rizzolo. "This is a huge scientific discovery. It is easy to recommend this food during medical check-ups, and it is widely accepted by the population."
The study participants had blood glucose levels between 100-124 mg/dl and all were put on a nutritional program designed to reduce the risk of their condition progressing to full-blown type 2 diabetes. Only the intervention group was given sardines during the study.
The sardine consumption amounted to 200 grams per week, which is equivalent of two small cans. The study participants given sardines were also given recipes that contained sardines to help them find creative ways to eat them. They were asked to eat them with the bones because they contain high levels of calcium and vitamin D. Sardines are also high in the beneficial nutrients taurine and omega-3.
"As we get older, restrictive diets (in terms of calories or food groups) can help to prevent the onset of diabetes," Rizzolo said. "However, the cost-benefit ratio is not always positive, as we found in other studies. The results lead us to believe that we could obtain an equally significant preventive effect in the younger population."
A total of 27% of the members in the group who did not eat sardines were at a high risk of developing diabetes at the outset of the study according to predetermined criteria. A year later that number dropped to 22 percent. But the group that ate sardines saw that number drop from 37 percent at the start all the way down to 8 percent a year later. They also had lower levels insulin resistance, triglycerides and blood pressure.
Rizzolo and her team have begun a second phase of their study to measure the effect sardines have on intestinal microbiota as well as their impact on inflammation as both could play an important role in the onset of type 2 diabetes and other chronic diseases.