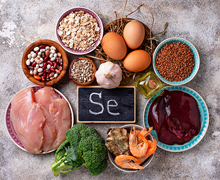 The dangers of environmental toxins from pollution in the air to pharmaceutical drugs in the water are seemingly unavoidable and can negatively impact your health. But new research from Spain shows there is an ally in the form of the mineral selenium that can help your body's defense system counteract the effects of pollution.
Scientists from the University of Cordoba wanted to find out how a mixture of toxins can impact mice and published their findings in the journal Science of The Total Environment.
They created a "cocktail of contaminants" that are common in the environment and accumulate along the food chain. This mixture included metals such as arsenic, cadmium, and mercury, as well as prescription drugs diclofenac and flumequine.
"We studied the controlled exposure of mice to this mixture and analyzed how it affects the proteins in the liver; that is, how their liver proteostasis changes when ingesting these mixtures of contaminants for two weeks," explained Professor Nieves Abril. "We used a massive protein detection technique (shotgun proteomic), which allowed us to compare how the proteins of the group exposed to the mixture of contaminants were altered compared to the control group."
Abril and colleagues found a synergistic effect with the compounds. They realized the combination of contaminants was responsible for exponentially more damage than the individual pollutants by themselves.
"Although these pollutants generated oxidation in the cells separately too, when they acted together we found that the oxidation was so intense that all the antioxidant defense responses were activated continuously, without deactivating them, which ends up doing damage and causing many proteins to stop working, Abril said."
But the study also showed there his hope. A third group of mice was given the mineral selenium to see if it could counteract some of the effects.
Researchers found the mice given selenium showed relief from the molecular damage done by the mix of toxins. Selenium is an antioxidant by itself and researchers said it predisposes the body to better defend itself from the pollutants.
Click here to read more in the journal Science of The Total Environment.