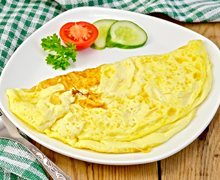 If you skip breakfast and think you will make up for the nutrients you missed at a later meal you may be mistaken. Researchers at Ohio State University found adults who skip breakfast are likely to be low on nutrients commonly found in breakfast foods all day.
A study of more than 30,000 adults found those who skipped breakfast spent the day low on things such as calcium from milk and vitamin C from fruit along with other vitamins, minerals traditionally found in breakfast cereal or eggs.
"What we're seeing is that if you don't eat the foods that are commonly consumed at breakfast, you have a tendency not to eat them the rest of the day," said Christopher Taylor, professor of medical dietetics in the College of Medicine at Ohio State University. "So those common breakfast nutrients become a nutritional gap."
Previous research on skipping breakfast has been focused on children. The effect of children missing that morning meal has been seen in an inability to focus in the classroom as well as with behavioral issues.
"With adults, it's more like, 'You know how important breakfast is.' But now we see what the implications really are if they miss breakfast," Taylor said.
The study authors used the latest dietary guidelines from the U.S. Department of Agriculture which highlights calcium, potassium, fiber and vitamin D as components of public health concern, along with iron for pregnant women. The reason is deficiencies in those nutrients have been associated with health problems.
Of the more than 30,000 participants, nearly 5,000 reported skipping breakfast. All participants were surveyed on all the food they ate and nutrient intake was calculated according to the federal Food and Nutrient Database for Dietary Studies. The totals were then compared to suggested dietary guidelines.
Those ones who skipped breakfast were lowest in things such as folate, calcium and iron as well as vitamins A, B1, B2, B3, C and D.
"We found those who skipped breakfast were significantly more likely not to meet the bottom threshold of what we hope to see people eat," fellow researcher Stephanie Fanelli said.
While researchers looked at just one day in the life of the participants they are convinced the large sample size provides them with enough data to trust it as a nationally representative snapshot.
"It shows that those who skipped breakfast had one nutrient profile and those who ate breakfast had a different nutrient profile," Taylor said. "It helps us identify on any given day that this percentage of people are more likely to be skipping breakfast. And on that day, their dietary intake pattern showed that their consumption didn't capture those extra nutrients that they have basically missed at breakfast."
Click here to read more in the journal Proceedings of the Nutrition Society.