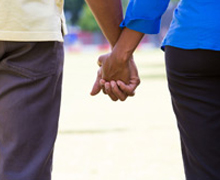 The stress associated with conflict can cause emotional as well as physical harm but resolving arguments the same day they start could be your key to a healthier life. Researchers at Oregon State University found people who quickly resolved a conflict significantly reduced the associated negative emotional response and in some instances erased it completely by the next day.
"Everyone experiences stress in their daily lives," said Robert Stawski, senior author on the study. "You aren't going to stop stressful things from happening. But the extent to which you can tie them off, bring them to an end and resolve them is definitely going to pay dividends in terms of your well-being. Resolving your arguments is quite important for maintaining well-being in daily life."
Scientists have come to understand the power of chronic stress and its negative effects on the body. It can lead to mental health issues such as depression and anxiety. It can also manifest itself in physical problems such as heart disease, a weakened immune response, gastrointestinal issues and other ailments.
"Daily stressors—specifically the minor, small inconveniences that we have throughout the day—even those have lasting impacts on mortality and things like inflammation and cognitive function," said fellow researcher Dakota Witzel.
Stawski and Witzel examined data from more than 2,000 study participants who were asked about arguments and arguments avoided, which were defined as instances that could have been argued but the person dropped the matter. They then measured the person's negative and positive emotions that day and the day after the incident occurred.
Those who felt their encounter was resolved on the day of the argument or avoided argument had roughly half the emotional reaction toward the event as those who felt the encounter was not resolved. And those who felt the matter was resolved had no prolonged negative consequences the next day.
Researchers found the older study participants were better able to resolve or avoid conflict than younger participants but those who did resolve or avoid them had the same reaction regardless of age.
"If older adults are really motivated to maximize their emotional well-being, they're going do a better job, or at least a faster job, at resolving stressors in a more timely fashion," Stawski said. "Some people are more reactive than other people. But the extent to which you can tie off the stress so it's not having this gnawing impact at you over the course of the day or a few days will help minimize the potential long-term impact."
Stawski and Witzel plan to delve deeper into the nature of people's disagreements in future studies to see which contexts and relationships lead to the most stressful arguments.