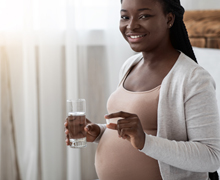 Some of the most recommended nutrients for a healthy pregnancy are folic acid, iron, calcium and vitamin D. But choline is now getting high marks as a result of a study at Cornell University that showed choline is critical by itself and also helps the mother more efficiently use DHA, which is essential for fetal brain, cognition and vision development.
The study showed that by supporting cellular metabolism, choline supplementation was instrumental in the release of the omega-3 fatty acid DHA from the pregnant mother's liver. After being released into her bloodstream, the DHA is able to be delivered throughout the body, including the placenta.
"During pregnancy, mom is primed to get nutrients out of the liver and make them available to the baby, so by supplementing choline and DHA [together], we are increasing DHA bioavailability," said senior author Marie Caudill, professor of nutritional sciences in the Cornell University College of Agriculture and Life Sciences.
Caudill said the working together different nutrients is not a new finding. Other examples she cited include vitamin D helping the body absorb calcium and vitamin C helping the body make iron more available.
Researchers at Cornell have found high maternal choline intake helps the baby better react to stress and affords it long-term benefits in the form of improved information processing in early childhood. In one study, children were tracked up to the age of 7.
Choline also helps the mothers reduce a risk factor associated with preeclampsia during pregnancy.
A group of 30 women between 12 and 16 weeks gestation participated in this study. They were divided equally with one group receiving 500 milligrams of choline per day plus an additional 50 milligrams labeled with deuterium, which allowed it to be tracked throughout the body. The control group was given just 25 milligrams of labeled choline.
Both groups were given 200 milligrams of DHA per day as well as a prenatal vitamin and mineral supplement. They had no dietary restrictions. Blood and urine samples were taken before the trial to establish a baseline and follow-up samples were taken at the 20-24 week mark and 28-30 week mark. The mother's blood was drawn and cord blood samples were also taken at birth.
The researchers were able to track the labeled choline and saw that a chemical reaction took place that resulted in small molecules called methyl groups combining with other molecules enriched with DHA. That is what facilitated its transfer out of the liver and into the bloodstream.
"Our results would suggest that choline supplementation may help achieve higher DHA status with lower DHA doses during pregnancy," said study author Kevin Klatt, PhD from the University of California at Berkeley. "Our data points towards choline intake as another significant determinant of the amount of dietary DHA that makes it into tissues in pregnancy."
Click here to read more in the American Journal of Clinical Nutrition.