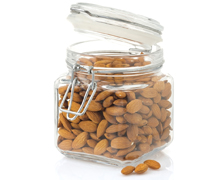 Nuts often get a bad rap because of their high fat content. But but fans of one nut got some goods news recently. Researchers in Australia found adding almonds to a low-calorie diet can help you lose weight and improve your heart health, despite their fat content.
Scientists from the University of South Australia conducted a randomized trial and published their findings in the journal Obesity.
The nine-month trial had 106 participants who first went through a three-month weight loss phase followed by a six-month weight maintenance phase. The difference between the phases was the amount of calories consumed.
During both phases, participants had 15 percent of the calorie intake made up of either whole, unsalted almonds, or a nut-free options such as rice crackers or baked cereal bars. Despite their high fat content, the almonds did not keep the participants from losing weight. Both groups lost an average of 15 pounds during the nine months.
Researcher Dr. Sharayah Carter said the study shows how nuts can be a healthy part of a diet for weight management and cardiometabolic health.
"Nuts, like almonds, are a great snack," Carter says. "They're high in protein, fiber, and packed with vitamins and minerals, but they also have a high fat content which people can associate with increased body weight. Nuts contain unsaturated fats—or healthy fats—which can improve blood cholesterol levels, ease inflammation, and contribute to a healthy heart."
Carter went on to explain, "In this study we examined the effects of an almond-supplemented diet with a nut-free diet to identify any influence on weight and cardiometabolic outcomes. Both the nut and nut free diets resulted in approximately 9.3% reduction in body weight over the trial."
More than just weight loss, Carter said the almonds contributed to healthy findings regarding heart health.
"The almond-supplemented diets also demonstrated statistically significant changes in some highly atherogenic lipoprotein subfractions, which may lead to improved cardiometabolic health in the longer term," Carter commented. "Additionally, nuts have the added benefit of making you feel fuller for longer, which is always a pro when you're trying to manage your weight."