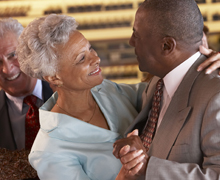 People with Parkinson's disease often isolate themselves from society because of their symptoms but an activity like dancing not only gets them out in public it could improve some of their motor issues. Researchers from York University in Toronto found weekly dance lessons led to a reduction in motor impairment and a significant improvement in areas such as speech, tremors and balance for mild-to-moderate Parkinson's sufferers compared to those who did not do any dance exercise.
"The experience of performing and being in a studio environment with dance instructors appears to provide benefits for these individuals," said Joseph DeSouza, associate professor in the Department of Psychology at York University. "Generally, what we know is that dance activates brain areas in those without PD. For those with Parkinson's disease even when it's mild motor impairment can impact their daily functioning—how they feel about themselves."
Study participants also showed noteworthy improvements in daily living experiences related to cognitive impairment, hallucinations, depression and anxious moods. This study looked at the nature and progression of motor and non-motor skills affected by Parkinson's.
"Many of these motor symptoms lead to isolation because once they get extreme, these people don't want to go out," DeSouza said. "These motor symptoms lead to further psychological issues, depression, social isolation and eventually the symptoms do get worse over time. Our study shows that training with dance and music can slow this down and improve their daily living and daily function."
The study group consisted of 16 participants with mild-to-moderate Parkinson's disease. The 11 men and 5 women had an average age of 69. They took part in weekly 1.25 hour dance classes at Canada's National Ballet School or Trinity St. Paul's Church.
This group was compared to 16 non-dance Parkinson's sufferers chosen from the Parkinson's Progression Marker Initiative, a research project funded by the Michael J. Fox Foundation for Parkinson's Research along with other funding sources.
"Dance is so complex, it's a multi-sensory type of environment," said researcher Karolina Bearss. "It incorporates and stimulates your auditory, tactile, visual and kinesthetic senses and adds an interactive social aspect. Regular exercise does not offer these aspects. There's so much more to dance."
The next step for researchers is to observe what happens in the brain before and after dance classes to find out what sort of neurological changes may be taking place.
"Currently there is no precise intervention with PD and usual remedies are pharmacological interventions, but not many options are given for alternate exercises or additional interventions to push their brains," said DeSouza. "Hopefully this data will shed light on additional therapies for this group and be used in the treatment process. There may be changes in the brain that occur with dance with music, but more research is necessary."