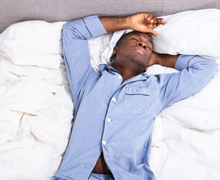 Deep sleep is restful and allows the body to recover. But new research shows it may also protect the brain. Scientists at Monash University in Australia have found found that deep sleep, also known as slow-wave sleep, may prevent dementia.
In a report published in JAMA Neurology, researchers detailed how in their work they found as little as a 1 percent reduction in deep sleep for people over the age of 60 translates to a 27 percent increase in the risk of dementia.
Professor Matthew Pase and his team from the Monash School of Psychological Sciences and the Turner Institute for Brain and Mental Health in Melbourne, Australia looked at data from 346 participants from the Framingham Heart Study. These people were over the age of 60 and completed two overnight sleep studies between 1995 and 2003 with an average of five years between the two studies.
The study participants were closely followed through the end of 2018 for reported cases of dementia. There were a total of 52 cases diagnosed during the follow-up period. Researchers found the amount of deep sleep declined between the two studies which they say indicates there is a natural loss of slow-wave sleep with aging.
Researchers adjusted for several factors such as age, sex, genetics, smoking status, and medications for sleep, depression and anxiety and found each percentage decrease in deep sleep each year was associated with a 27 percent increase in the risk of dementia.
"Slow-wave sleep, or deep sleep, supports the aging brain in many ways, and we know that sleep augments the clearance of metabolic waste from the brain, including facilitating the clearance of proteins that aggregate in Alzheimer's disease," Pase said. "However, to date we have been unsure of the role of slow-wave sleep in the development of dementia. Our findings suggest that slow wave sleep loss may be a modifiable dementia risk factor."
Pase said the Framingham Heart Study is good for tracking dementia because of the repeated overnight sleep studies and uninterrupted surveillance.
"We used these to examine how slow-wave sleep changed with aging and whether changes in slow-wave sleep percentage were associated with the risk of later-life dementia up to 17 years later," Pase said. "We also examined whether genetic risk for Alzheimer's Disease or brain volumes suggestive of early neurodegeneration were associated with a reduction in slow-wave sleep. We found that a genetic risk factor for Alzheimer's disease, but not brain volume, was associated with accelerated declines in slow wave sleep."