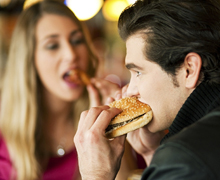 The U.S. has exported a long list of life-saving technologies and wonderful innovations around the world. Unfortunately, a healthy diet is not on the list. Researchers in Australia have found those eating a Western-style diet, which is high in fat, sugar and processed foods, are more likely to be depressed than those who eat a diet high in fresh fruits and vegetables.
Scientists at Macquarie University in Sydney worked with 169 study subjects between the ages of 17 and 35 and published their findings in the journal Frontiers in Nutrition. In addition to higher levels of depression, they found those who ate a Western-style diet were also more likely to have lower levels of kynurenic acid (KA). KA is a small molecule that affects a number of bodily functions and is thought to help protect against depression.
"Western-style diets high in fat, sugar and processed foods were already known to increase the risk of depression, but this is the first time a biological link involving the kynurenine pathway has been established," said Neuroscientist Dr. Edwin Lim. "In this study, we tested participants' urine for several biological markers, including KA and inflammation, and compared them with how healthy their diet was and the severity of depression symptoms. People from the group eating an unhealthy diet had lower levels of KA and more severe symptoms of depression. This indicates that KA may help to protect us against depression."
The human body relies on important molecules and metabolites to maintain healthy functioning. One such molecule is tryptophan, an essential amino acid. The body cannot product it so it must come through food or supplementation. It's found in found in many dairy products as well as poultry, bananas, oats, nuts and seeds.
Tryptophan can be broken down by the body to produce serotonin and melatonin, which are important for mood and sleep. It can also be processed by the kynurenine pathway to create KA.
Researchers believe this is the first study of its kind to show that a Western-style diet affects the way tryptophan is metabolized in healthy young people
"Previously, it was believed that changes to tryptophan metabolism were driven by inflammation, despite there not being conclusive clinical evidence for this," Lim says. "Our study also shows that urine analysis may be a useful alternative to blood tests in collecting valuable biological information on the way our bodies process tryptophan. This can be a big advantage in that it's not only simpler—it's less invasive, which is important for vulnerable people such as children and older adults."
Dr. Heather Francis worked on the study but believes more information needs to be understood before targeting KA levels as a treatment for depression.
"There is, however, a clear relationship between an increased risk of depression and eating an unhealthy diet that is high in fat, sugar and processed foods, giving us all the incentive to eat more fresh vegetables and fruit," Francis says.
Click here to read more in the journal Frontiers in Nutrition.