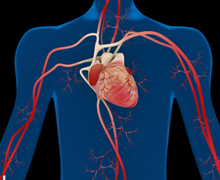 New data shows the theory promoted by some health professionals that overweight people who exercise are still in "good" shape when it comes to the heart is not completely accurate. Spanish researchers have found physical activity is not enough to undo the negative effects of excess body weight on the heart.
"One cannot be 'fat but healthy,'" said study author Dr. Alejandro Lucia of the European University, Madrid, Spain. "This was the first nationwide analysis to show that being regularly active is not likely to eliminate the detrimental health effects of excess body fat. Our findings refute the notion that a physically active lifestyle can completely negate the deleterious effects of overweight and obesity."
While there is evidence exercise is able to mitigate some of the bad effects of excess body weight on the heart, it's not enough for people who are interested in long-term heart health. Researchers sought to dispel the myth that "fat but fit" is the equivalent of "thin but unfit" when it comes to cardiovascular health.
"This has led to controversial proposals for health policies to prioritize physical activity and fitness above weight loss," Dr. Lucia said. "Our study sought to clarify the links between activity, body weight, and heart health."
Dr. Lucia and his colleagues analyzed data from more than 527,000 adults in Spain with an average age of 42. Using body mass index as the measuring stick, the participants were divided into groups of people who were classified as normal, overweight or obese. They were then further classified as regularly active, insufficiently active and inactive according to the standards developed by the World Health Organization.
All participants were then measured for cardiovascular health in relation to diabetes, high cholesterol and high blood pressure, which are major risk factors for heart attack and stroke.
Researchers looked for a correlation between BMI and activity level in relation to the risk factors and at all BMI levels they found activity, no matter how much, was linked to lower likelihood of diabetes, high blood pressure or high cholesterol compared to no exercise at all.
"This tells us that everyone, irrespective of their body weight, should be physically active to safeguard their health," Dr. Lucia said.
However, overweight and obese study participants had greater cardiovascular risk than those in the normal weight ranges regardless of activity levels. For example, active obese participants were twice as likely to have high cholesterol, four times more likely to have diabetes and five times more likely to have high blood pressure.
"Exercise does not seem to compensate for the negative effects of excess weight," Dr. Lucia said. "Fighting obesity and inactivity is equally important; it should be a joint battle. Weight loss should remain a primary target for health policies together with promoting active lifestyles."
Click here to read more in the European Journal of Preventative Cardiology.