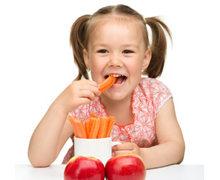 The saying in parenting that behavior is more caught than taught seems to apply to a healthy weight range as well. The results of a new study published in the British Medical Journal show children are a lot less likely to be obese if their mother sticks to a healthy routine.
The risk of childhood obesity was lowest among kids whose mothers maintained a healthy weight, ate a healthy diet, exercised regularly, did not smoke and were light to moderate drinkers.
The obesity rate in America is currently 20 percent among children between the ages of 6 and 19 which means one in five kids are currently at an increased risk for one of several disorders leading to premature death as an adult, including diabetes and cardiovascular disease.
While the role genetics plays in obesity is also being studied, researchers theorize a large increase in obesity in recent years is probably due to lifestyle more than anything. Previous studies have shown that children's lifestyle choices are influenced a great deal by their mother's choices but it had not necessarily been tracked in terms of obesity.
So a team of U.S. and Canadian researchers set out to find how the impact a mother's lifestyle choices – good or bad – had on their children's weight. They reviewed the medical history and lifestyle characteristics of nearly 25,000 children and 17,000 women. Volunteers completed detailed questionnaires about health and lifestyle, including body mass index (BMI), physical activity and diet. Mothers were also asked about smoking and drinking habits.
BMI, which is determined by a combination of height and weight, is generally considered in the healthy range when the number is between 18.5 and 24.9. Below 18.5 is underweight and between 25 and 29.9 is considered overweight. Obese is a number between 30 and 39.9.
When just looking at body weight, children of mothers in a healthy range were at a 56 percent lower risk of obesity than those of mothers in other BMI categories. Children of non-smoking mothers had a 31 percent lower risk, and the risk of obesity was also lower when the mother exercised and drank only moderately.
The risk of obesity was 75 percent less for children when all factors lined up in the positive category for the mother (healthy BMI, non-smoker, healthy diet, exercise, moderate alcohol).
While no solid conclusions were drawn about cause and effect from this observational study, researchers believe the evidence is clear that healthy lifestyle choices by mothers are associated with a lower risk of obesity in their children.